Now Offering Products to Restore & Maintain Wellness & Beauty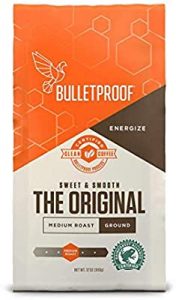 Bulletproof The Original Ground Coffee
Medium Roast
Keto Friendly
Certified Clean Coffee
Rainforest Alliance
Ground
12 Ounces
ABOUT THIS ITEM
Bulletproof Coffee: Our coffee is the result of an obsessive pursuit to find the absolute highest performance coffee beans on earth. It has taken more than 10 years to identify every step of performance-robbing toxin formation in coffee and to find a reliable, perfect source of beans that always make you Feel great. Clean and bright, Bulletproof upgraded coffee is a well-balanced coffee with a full body and undertones of caramel.

Produced with hand picked organic beans: upgraded beans are harvested in Central America from passive organic estates without chemicals (herbicides, pesticides, etc.). Each bean is hand-picked by experienced coffee harvesters – skilled people who only pick perfectly ripe berries. When the coffee beans are not carefully hand-harvested, the beans can be mistakenly picked unripe and damaged, which impacts the taste and can possibly affect the way it makes you feel.

Optimized to minimize toxins: ingesting mold toxins can contribute to chronic health issues. The proprietary Bulletproof process optimizes every step of coffee production for performance by minimizing the opportunity for performance-robbing mold toxins.

Bulletproof purity process standard: Bulletproof upgraded coffee beans are meticulously grown at high altitude on single estates in Guatemala, hand-harvested, carefully processed, Handled and roasted to maintain maximum integrity and flavor. The final roast then undergoes proprietary lab testing to verify that our coffee meets the Bulletproof Quality and purity standards.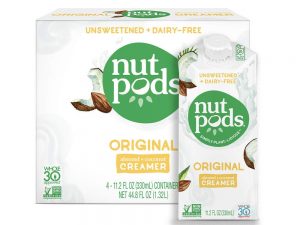 nutpods Original
Unsweetened Dairy-Free Creamer
Whole30, Paleo, Keto, Non-GMO and Vegan, for Coffee, Tea and Cooking
Made from Almond and Coconut
11.2 Fl Oz (Pack of 4)
ABOUT THIS ITEM
THE ORIGINAL – Enjoy your coffee the way you like with nutpods Original's neutral, smooth taste without all the sugar!

ZERO SUGAR CREAMER – nutpods is the dairy-free coffee creamer made from almonds and coconuts that is always unsweetened. Yes it's true: all of our products contain no added sugars or alternative sweeteners.

WHOLE 30 APPROVED & KETO FRIENDLY – nutpods dairy-free creamers are perfect for those who follow Whole 30, keto, paleo, plant-based (vegan), vegetarian, lactose-free, and/or diabetic diets.

CLEAN CERTIFICATIONS – No Dairy, Soy, Carrageenan, Added Sugars or other sweeteners. Certified Vegan, Whole30 Approved, OU Kosher, Gluten-Free, Non-GMO Project Verified & Paleo and Keto Friendly!

SHELF STABLE PACKAGE – Comes as a package of four 11.2oz shelf-stable containers making it portable for all of your travel needs. Refrigerate after opening.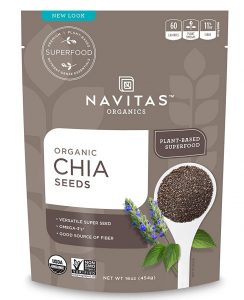 Navitas Organics Chia Seeds
16 oz. Bag
Organic, Non-GMO, Gluten-Free
ABOUT THIS ITEM
Named after the Mayan word for "strength," the tiny chia seed is a substantial source of protein, fiber, vitamins, minerals, and antioxidants!

A good source of magnesium, calcium and iron, Navitas Organics Chia Seeds also provide 11% DV fiber and 2g protein per serving.

Chia Seeds are abundant in omega-3 fatty acids. Omega-3's are are revered for their anti-inflammatory properties and essential for optimal functioning.

Make chia pudding (the tiny seeds expand when soaked) or add to salads, oatmeal, dips, smoothies, and baked goods.

USDA Organic, Kosher, Non-GMO, vegan, gluten-free.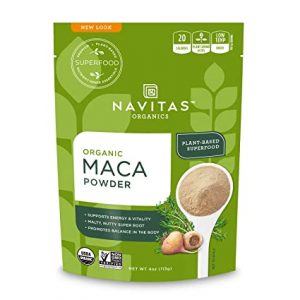 Navitas Organics Maca Powder
4 oz. Bag
Organic, Non-GMO, Low Temp-Dried, Gluten-Free
ABOUT THIS ITEM
A Peruvian super-root used to bolster energy and vitality, Maca was revered for centuries by ancient Inca warriors.

As an adaptogen, Maca helps balance stress levels and bolster resiliency in the body.

Navitas Organics Maca Powder energizes naturally, without the jitters and crashes of caffeine.

Sweet and malty, Maca Powder is delicious in smoothies, warm drinks, oatmeal and baked goods.

USDA Organic, Kosher, Non-GMO, vegan, gluten-free.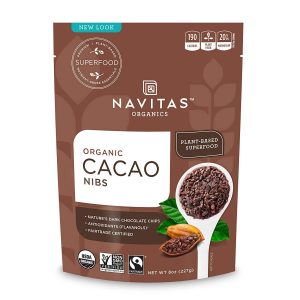 Navitas Organics Cacao Nibs
8 oz. Bag
Organic, Non-GMO, Fair Trade, Gluten-Free
ABOUT THIS ITEM
Nature's dark chocolate chips! Navitas Organics Cacao Nibs are 100% gently crushed cacao beans.

Excellent source of antioxidants, fiber, and minerals including iron and magnesium.

Sourced from their native Peru, Navitas Organics Cacao Nibs are the Criollo variety: a nutrient-dense, non-hybridized bean that makes up only 5% of the world's cacao trees.

Delicious in smoothies, cereal, trail mix, yogurt, ice cream and baked goods.

USDA Organic, Fair Trade, Non-GMO, Kosher, vegan, gluten-free.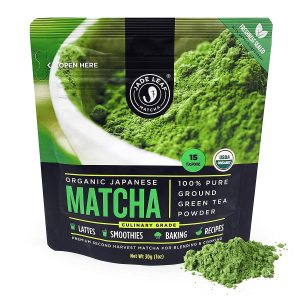 Jade Leaf Matcha Green Tea Powder
Organic, Authentic Japanese Origin
Culinary Grade
Premium 2nd Harvest
1oz
ABOUT THIS ITEM
100% USDA Organic Matcha Green Tea Powder – Pure Shade-Grown Green Tea Leaves – All Natural, Nothing Added (naturally gluten free and vegan)

Authentic Japanese Origin – sourced directly from organic farms in Uji and Kagoshima, Japan, allowing us to provide much better quality at better pricing

Create Amazing Matcha Recipes – Culinary Grade Matcha is an affordable way to add a delicious, healthy boost to lattes, smoothies, baked goods, and other dishes

Healthy Superfood – matcha is rich in antioxidants, helps boost metabolism, great source of natural energy and mental clarity

Love It or Your Money Back – if you are not 100% satisfied with your purchase for any reason, just email us and we'll make it right